Spoken Languages in Syria:
Arabic is the official and most widely spoken language. Kurdish is wid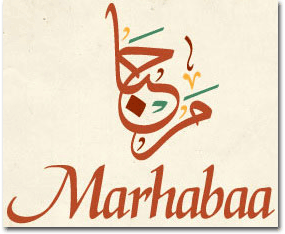 ely spoken in the Kurdish regions of Syria (northeastern regions), Kurds are less than 10% of Syria's population. Aramaic, the lingua franca of the region before the advent of Islam and Arabic, is spoken among certain ethnic groups: Syriac, it is used as the liturgical language of various Syriac denominations; modern Aramaic (particularly, Turoyo language and Assyrian Neo-Aramaic) is spoken in al Jezira region. Most remarkably, Western Neo-Aramaic is still spoken in the village of Maalula, and two neighboring villages, 35 miles (56 km) northeast of Damascus.
The Arabic Language:
Arabic (al Arabiya), a Semitic idiom, is the main language spoken in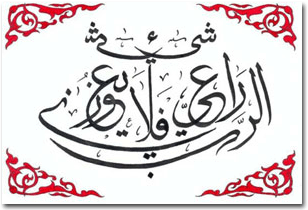 Syria. The Arabic language was adopted and spread over a large area of land in the 7th Century. This language has very old roots going back to the Assyrians in the 9th Century BC. Arabic was probably first written in the 2nd and 3rd Centuries AD under the rule of the Lakhmid tribe in Southern Mesopotamia. Other languages related to Arabic are Babylonian, Hittite (or Hurrian), Hebrew and Aramean. The Arabic alphabet has a few extra letters that do not exist in the normal Latin and Germanic languages.
The Arabic alphabet, written from Right to Left, was first used to write texts in Arabic - most importantly, the Koran, the holy book of Islam. With the spread of Islam, it came to be used to write many other languages, even outside of the Semitic family to which Arabic belongs. Examples of non-Semitic languages written with the Arabic alphabet include Persian, Urdu, Malay, Azerbaijani (in Iran) and Kurdish in Iraq and Iran. In order to accommodate the needs of these other languages, new letters and other symbols were added to the original alphabet.
The First Alphabet:
In the history of the world, man wrote the alphabet for the first time in Ugarit - Syria, locally known as "Ras Shamra", on the Syrian coast, that the genius of a scribe drew the first thirty letters on a small clay tablet. This little invention dates back to the 14th century BC. The tablet is exhibited at the museum of Damascus.

In this picture are some alphabetical symbols compared to the first alphabet of Ugarit (the second row from top):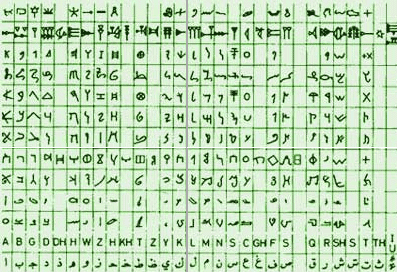 | | | | |
| --- | --- | --- | --- |
| Arabic | English | Arabic | English |
| Inch'Allah | God wiling | Esmi | My name is |
| El Hamdul Allah | Thanks God | Fenn | Where? |
| Bakhshish | Tips | Houna | Here |
| Ahlan Wa Sahlan | Welcome | Hounak | There |
| Shokran | Thank You | Fok/Tahet | Up/Down |
| Sabah El Kher | Good Morning | Shamal/Yamin | Left/Right |
| Masaa El Kher | Good Evening | Adesh Be Yeswa? | How Much Does It Cost? |
| Kifak? | How Are You? | Ghali | It's Expensiv! |
| Maa al Salame | Good Bye | Zero/Sefr | 0 |
| Bokra | tomorrow | Wahed | 1 |
| Masari | Money | Nein | 2 |
| Law Samaht | Please | Thalatha | 3 |
| Ana/Anta | Me/you | Arbaa | 4 |
| Shay | Tea | Khamsa | 5 |
| Kahwa | Coffee | Setta | 6 |
| Halib | Milk | Sabaa | 7 |
| Jamila | Beautiful | Thamania | 8 |
| Naam/Kalla | Yes/ No | Tsaa | 9 |
| Tamam | Ok | Ashara | 10 |