Home > Explore Syria > Al Nejem Castle
Al Nejem Castle
Al Nejem Citadel Syria (Nejem Castle)
The small village of Membij, which is situated 88 Km to the northeast of Aleppo, has many Roman and Byzantine monuments. The main one however is Al Nejem Citadel, or Nejem castle which is 110 Km to the east of Aleppo.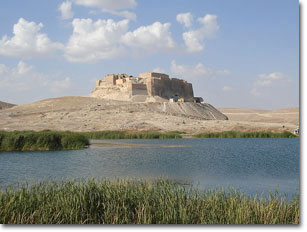 This fortress, which originally dates back to the Romans, was called Caeciliana, and was used as an assembly point for most of the troops who were campaigning against the Sassanians.
The remains of the castle today date back to the Arab period. In the 13th century it was rebuilt by Nur al Din and then al Malik al Zaher Ghazi the son of Saladin. However, by the 14th century Nejem Citadel was abandoned due to the Mongol invasions.

Al Nejem Citadel is purely Arabic in feature and is situated on a natural hill on the right bank of the Euphrates River. There are several underground rooms which are covered by a two-floor castle. Vestiges in the castle include a small palace with a courtyard in the center of it, which is surrounded by Iwans.